Weight Watchers founder Jean Nidetch has passed away: here are 10 interesting facts about the world's most popular diet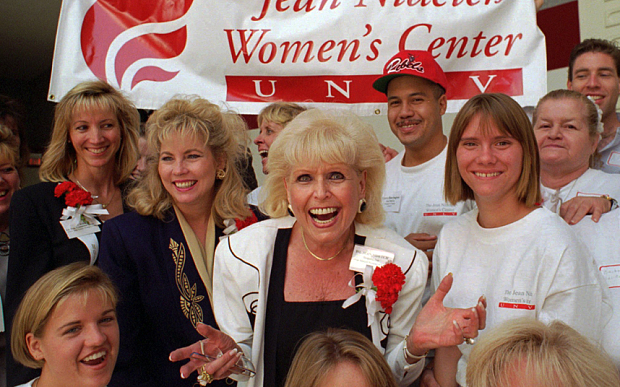 UK members have lost over eight million stone between them
Weight Watchers claim that between 2004 and 2014, UK members together lost eight million stone.
Two million people signed up to Weight Watchers lost a total of 11 million pounds in 2011 alone.
It was founded May 15th 1963
Weight Watchers was founded by Jean Nidetch, who died today. She was spurred on to lose weight after a neighbour assumed she was pregnant instead of overweight.
After attending health clinics and deciding their approach was boring, she set up her own meeting with friends in her flat in Queens, New York.
The first UK meeting was held in 1967
It took place near Windsor and since then there have been over 6000 meetings a week in the UK.
It's the worlds most popular slimming brand
Since being founded 52 years ago, Weight Watchers has gained over 1 million members. A recent study found that joining Weight Watchers is five times more effective than dieting alone.
Average weight loss after three months with Weight Watchers was 8.6lbs, the study said, whereas those who dieted alone only lost an average of 1.8lbs.
It has the NHS stamp of approval
Due to its success, since 2007 the NHS has provided over £4 million to Weight Watchers in order to help their patients lose weight. It has the highest number of referrals of any diet plan with over 2000 GP's referring people to the company.
In 2014, the NHS announced that two thirds of the population should be sent to state-funded slimming classes like Weight Watchers, which sparked controversy.
• Diets work better with WeightWatchers than the NHS: research
They make millions
Unsurprisingly, Weight Watchers is an extremely profitable company. In 2013, Weight Watchers posted profits of over £18 million.

Sarah Ferguson says Weight Watchers "saved" her (AP)
The Duchess of York is a fan
The Duchess of York, Sarah Ferguson spent eleven years as the spokesperson for the brand, and wrote five lifestyle books. She once told The Telegraph that Weight Watchers saved her life: For ages you say you don't need help, and then eventually you get some, and then it becomes a way of life. Weight Watchers literally saved me."
Currently the spokesperson is singer and actress Jennifer Hudson.
The biggest success story comes from America
In 2008, 42-year-old Kim revealed she'd lost 211.8lb in two years following the Weight Watchers diet.
A floor once collapsed at a meeting
In 2010 the floor of a Weight Watchers clinic in Sweden collapsed beneath a group of 20 members of the weight loss programme who were gathered for a meeting.
It took till 2011 for them to dismiss calorie counting as "ineffective"
In a statement, former president of the company David Kirchoff said: "calorie counting has become unhelpful."
"When we have a 100-calorie apple in one hand and a 100-calorie pack of cookies in the other, and we view them as being 'the same' because the calories are the same, it says everything that needs to be said about the limitations of just using calories in guiding food choices."